Also perfect for GT and other saltwater big fish
Whether from the bank or the boat,whether bait-fishing or spinning,from wels-catfish,arapaima to tuna&GT...
The eques covers all of these ways and targets.

In Japan,fishing travel or expedition is getting more and more popular.As you know,when traveling,there is a limit to the number of the rods you can have.This needs the rod to be more reliable and to have good mobility.
Anglers have been made believe that multi-piece rods cannot exceed traditional 1 or 2 section rods,but this is a thing of the past.Now as a Japanese brand,we can supply our highest quality 3 section rod for catfish/GT, the EQUES -travel buddy-.
This rod will never be contented with usage as a "sub" rod.Of course the construction of 3 sections is great for expedition,but you will find its superb mobility also come in handy for usual angling.
The EQUES is designed as a real all-rounder,for various monsters,such as wels catfish,arapaima,tuna and GT.
As for the wels catfish,Yuri Grisendi,one of the most famous and experienced catfish expert tested this rod with Italian monster wels catfish.

Powered by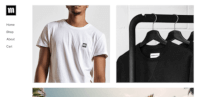 Create your own unique website with customizable templates.